Old Block House, Mackinac Island, Mich. Postcard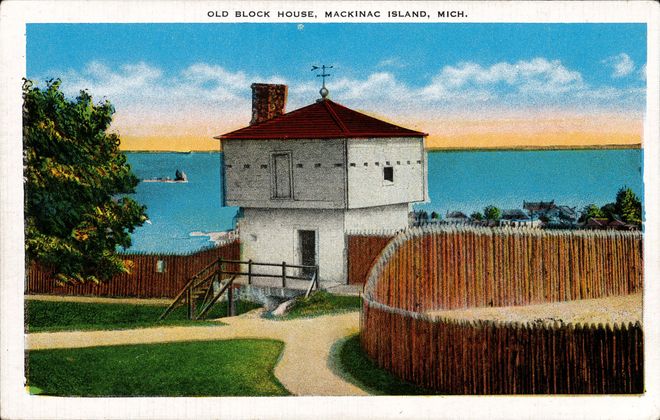 Old Block House, Mackinac Island, Mich.. Linen postcard published by Frank Shama, Mackinac Island, Mich. and printed by E. C. Kropp Co., Milwaukee, Wis. Card is not postmarked. The back of the card reads:
Fort Mackinac, on an elevation of 133 feet, overlooks the city. It was removed from the town in 1780 after Pontiac's conspiracy and the original stone block houses, erected at that time, are still in their natural state. The picturesque parapets and block houses at the Fort welcome all. An inspiring panorama is obtainable from this point. Mackinaw City is 12 miles distant on Main Land.
.
Copyright/Licence
: This work was first published in the United States prior to 1977, and it was published without a copyright notice and/or the copyright was not registered. It is therefore in the public domain in the United States.