Fort Niagara, from the Lighthouse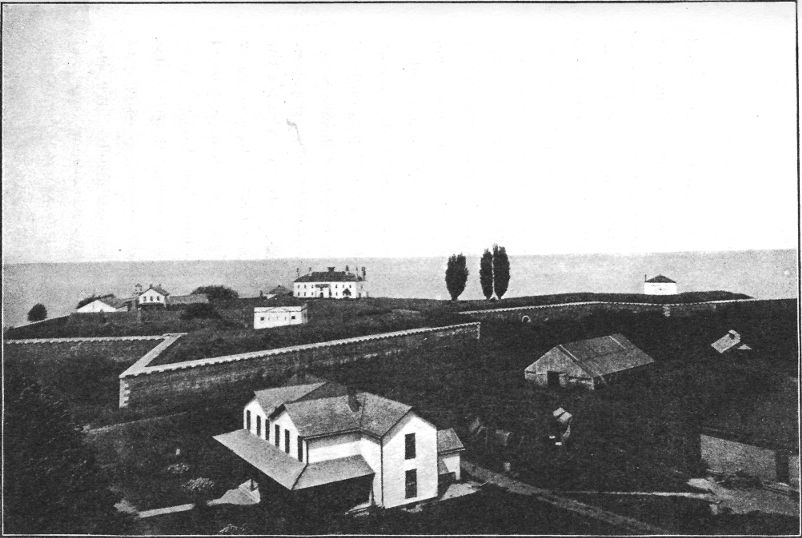 Fort Niagara, from the Lighthouse.
The military history of Fort Niagara dates back to 1678, when a house defended by palisades was built here by LaSalle. Under French rule it was considered an important point for fostering and holding the fur trade and went through various changes and vic cissitudes. Of the present buildings the large stone building called the Mess House, or Castle, was built by the Marquis de Vaudreuil in 1726. Report says the stone for building it was brought from Frontenac. It contains a dungeon called the Black Hole, where men were said to have been put todeath. The well of the castle was located in this dungeon. The forst was finally taken from the French by the British in 1759, in whose possession it remained until 1796, when it was handed over to the United States. Many British refugees found shelter here during the Revolutionary War. The present walls are of comparatively modern construction.
Copyright/Licence
: This work was published in 1922 or earlier. It has therefore entered the public domain in the United States.
This work is a photograph that was created on or before December 31, 1948. Before 1999, section 10 of the Copyright Act stated that:
The term for which copyright shall subsist in photographs shall be the remainder of the calendar year of the making of

the initial negative or other plate from which the photograph was directly or indirectly derived, or
the initial photograph, where there was no negative or other plate,

and a period of fifty years following the end of that calendar year.
Therefore, this work would have been in the public domain in Canada as of January 1, 1999. While amendments to the Copyright Act modifying the duration of copyright in photographs came into effect on January 1, 1999, they applied only to works that were not already in the public domain (see
sections 54 and 58 of Bill C-32
). Therefore, this work is in the public domain in Canada.